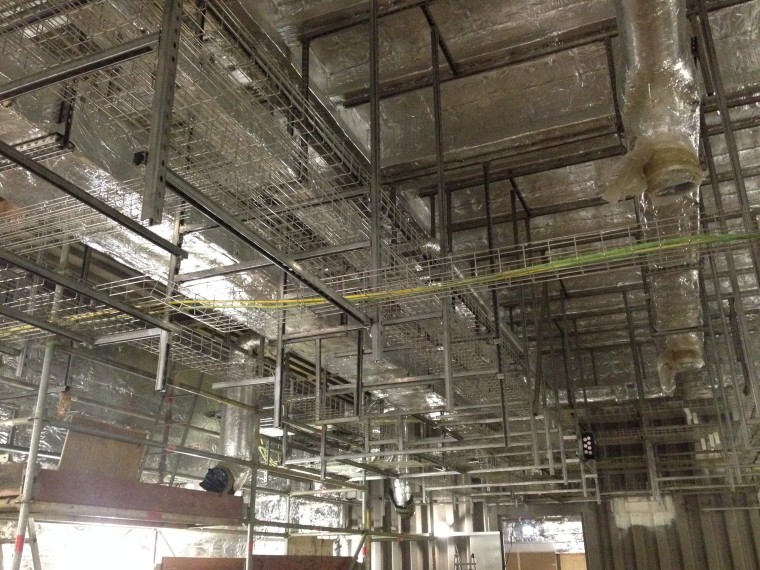 Object: Clipper PH Platform: PLQ – Platform Living Quarter Upgrade
Location: North Sea – U.K.
Year: 2012 – 2014
Client: Rosetti Marino Spa
Final Client: Shell UK Exploration & Production
Project description
This work is in the framework of the construction of the Clipper PH platform, commissioned by Shell UK to Rosetti Marino. The platform, a 5-storey building entirely made of steel, is currently under construction in the Piomboni shipyard, Marina di Ravenna.
TRILLINI Engineering was responsible for the design of the whole HVAC system, for the assessment of the technical uniformity of the economical offers and for the technical supervision of the construction activities.
The air conditioning system consists of four ventilation units, all equipped with a redundant fan: a central air handling unit (AHU) supplying a flow rate of 65000 m3/h, a unit responsible for the extraction and recirculation of air coming from clean environments (cabins, offices, public areas), a central air extraction unit for the "dirty zones" (bathrooms, smokers rooms, battery room) and a dedicated extractor for the kitchen area. The primary cooling system, which is installed in the AHU Room and supplies the cooling coils, consists of two 150kW chillers, a 1500l storage tank and two circulation pumps. The AHU heating coils are fed by hot water at about 80 °C, a by-product of the process platform. To ensure an adequate hygrometric well-being, the AHU provides a humidification section fed by 2 electric steam generators.
In order to optimize the energy consumption, the control logic of the HVAC system independently controls the recirculated air fraction as a function of the external and internal thermal and hygrometric conditions.
Given the limited available space, the design of the air ducts was developed to achieve the best compatibility with the other installed systems (Electrical, Instrumentation, Telecommunication, Process Piping, Sewage), with the objective of optimizing the following parameters: efficiency of air distribution, cost-effective resolution of clashes between different necessities, accessibility for periodic inspection and maintenance, acoustic performance etc.
TRILLINI Engineering, in addition to the engineering of the HVAC system, supervised and coordinated the following activities:
Coordination with the main contractor (Rosetti Marino) and with the end client
Management procedures, technical specifications and documentation
Technological uniformity of the economical offers and vendor follow-up
PLC Control Logic and software
Instrumentation of the HVAC system
Construction details for the compartmentalized air ducts (A60, H60)
The design and the complexity of the solutions were induced by the necessity of addressing many and mutually interconnected issues, among which: the possible formation of explosive atmospheres both in the external and in some technical areas inside of the platform, the presence of brackish air, the need to ensure strict standards (MESC and Shell DEP) regarding materials and methods of operation and, last but not least, the need to ensure a high safety and quality standard.
Features:
Operating temperature: -3°C ÷ +20°C
RH: 100% with the presence of saline atmosphere
Internal pressurization: +50 Pa
Presence of ATEX environments
PED
SIL
DEP e MESC Shell